5 Products You Need To Buy From Target
**This post contains affiliate links, which means I make commission from purchases you make at no additional cost to you. Refer to my full disclosure on the disclosure page for more info.
Target is life.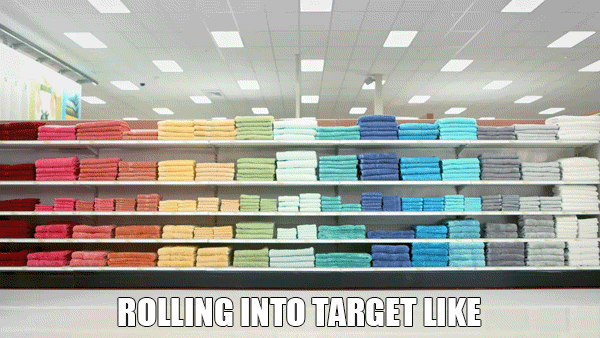 No, seriously.. Target is God's gift to Moms.. I don't know about any one else, but Target is where I like to go when I need some me time... Hell, I even love packing Olivia up and heading to Target just to get a coffee from Starbucks and walk around discovering all the wonderful things that I'm about to buy that I probably don't really need...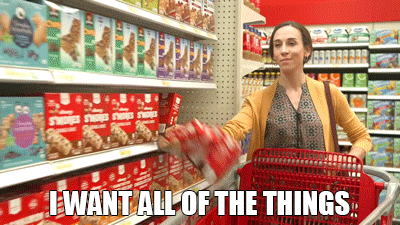 And while I can't tell you how many times I've gone into Target for toilet paper, and walked about with just about everything BUT toilet paper, I have discovered some major money saving baby products that I love!
1. UP & UP BRAND BABY WIPES
It blows my mind how fast we go through baby wipes in my house...we use those suckers for EVERYTHING. Wiping butts, cleaning spills, wiping dirty hands and faces, dusting... Baby wipes are totally the Swiss army knife of parenthood. I always bought Pampers wipes, but a few months back I decided to give Up & Up brand a try..and I fell in love! They are just as good of quality as other name brands, but they are a fraction of the price. I usually buy the unscented variety, but they also offer sensitive, cucumber, and fresh scent options! They also come in a variety of wipe counts. I typically buy the 800 count box which runs $13.49. Pampers brand 576 count runs $14.59! Up & Up really saves you without compromising quality!
(Click the photo for more Up & Up baby wipe options)
2. UP & UP BRAND DIAPERS
Diapers are another big necessity for baby that adds up quickly! I swear some days it feels like all I've done all day is change diapers! I've tried just about every different diaper brand in search of a cost effective, but quality brand, and I really love Up & Up brand the best! I love them because they are super absorbent, but they are also cute! They have a cute little whale print on them, as well as having the color changing wetness indicator, which I really like. Diapers can get costly, so if I can save money and still get a good quality diaper, I am all game!
(Click the photo for more Up & Up diaper options)
3. UP & UP BRAND FORMULA
I wish I would have discovered this sooner...It KILLS me to think of how much money I've spent on expensive baby formula... I always bought Enfamil baby formula, which I loved. It was great quality and Olivia liked it.. but it was so damn expensive.. at $24.99 per 21 oz can, I was buying a can every couple of days.. If I had to guess I'd say I spent about $50-100 per week on formula.. ouch...I was really worried about trying a store brand formula because I wasn't sure if it would be as good for my little one, but finally I decided to try it.... Tt $15.99 for a 22 oz can, I loved the price...But would I love the ingredients? Yes! There is actually a side by side comparison on the Up & Up can and I'll let you be the judge!
(Click the photo for more Up & Up baby baby formula options)
Up & Up offers regular infant formula as well as other dietary options.
4. UP & UP BRAND DIAPER RASH CREAM
Let's be real; There is nothing worse than a little one with a sore bottom.. Olivia is so sensitive to acids and her little lady bits can get so red! I have to liberally apply diaper cream which can get pretty pricey when using it with almost every diaper change...After loving all the other Up & Up products, I figured why not complete the trifecta and go for the diaper cream too??? It works like a charm.. It isn't super smelly, it goes on easily, and it works great. I'm sure you are sensing the trend here, and obviously it is cheaper than the other brands!
(Click the photo for more Up & Up diaper cream options)
5. TARGET RED CARD CREDIT/DEBIT
This is probably the BIGGEST money saver that I've found at Target! I fought the urge to get a Target card for years.. I didn't want another credit card, especially for a store like Target, where I freaking buy everything I can get my crazy hands on.. But then I found out that not only does Target offer a credit card, but also a debit card! You use it exactly like your normal debit card, but you get 5% off of all your purchases! The money comes straight from your bank account just like it would if you used your regular debit card. I love it because I save money by buying the Up & Up brand products, then I also utilize the Target baby coupons that I get in the mail every month or so (normally it is for 10% baby products), then I also get the 5% off of my purchase! It is a simple way to save money when I know I'm going to be buying these things anyways!
Apply today!
All of these things are just some of the reasons why Target is amazing.. I mean, lets face it... We are going to shop at Target either way...might as well save money while we do it... and then maybe we can buy more from Target with the money we saved.. totally makes sense.... right?
What are your favorite Target products?